Purchase Stepping Stones To A Healthy Stepfamily
•Learn how to address the distant and recent past in order to provide opportunities for growth for adults, children, teens, and adult children.
• How to deal with difficult and complex situations unique to stepfamilies.
• All adult stepfamilies and their specific challenges.
• Conflict resolution for stepfamilies.
• Understanding the challenges for children, no matter their age: child, teen or adult children.
• Parenting issues in the stepfamily.
• How to balance marriage with the demands of raising children and stepchildren in a stepfamily.
• Personal anecdotes from the author and her husband of thirty-three years.
Stepping Stones To A Healthy Stepfamily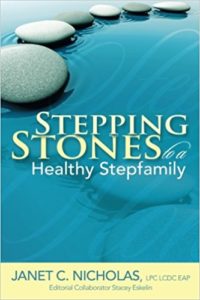 by Janet Nicholas (Author),
Stacey Eskelin (Consultant Editor)
Buy Now From Amazon